How To Find Products and Services
Find the products and services you need. Click: Search Directory in the top menu to go to the Search Page. If you are new to Canadian Water Directory, learn more aboutsearching below.
To watch an introductory video, go to: Finding Reliable Suppliers of Products and Services
In the left-hand margin of the Search Page you will see the Search Menu (partially shown opposite). You can select filters for Province, Sector, Category and Affiliation – just click the right box. 
To start a new search, click: Reset All Filters.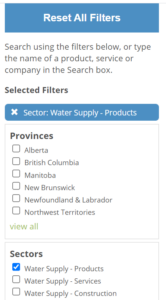 You can search by Province to find suppliers close to home.
Check a box under the Affiliations heading in the left-margin of the Search Page to see suppliers  who are affiliated with the industry organization you select.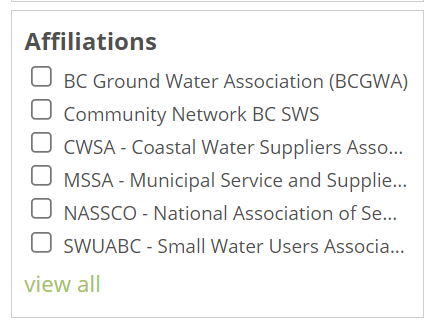 Use the Search Bar at the top if you prefer. Just type in your key words and click the Magnifying Glass.